Safety
OSHA
AEI makes safety a top priority on every project. As a company we are committed to following all OSHA construction and general industry standards, ensuring that every member of our team at a minimum completes the 10-hour OSHA construction training certification. In addition to maintaining OSHA guidelines, AEI recognizes that safety is a dynamic component to construction and requires constant reevaluation for each specific project. Our management and field teams have procedures in place to address such evolving project safety requirements by conducting hazard analysis on each specific task. This is particularly important within the industries we serve because many of our projects often include unique scenarios that combine typical construction safety with chemical and biological hazards as well as the environmental concerns of our clients. Accordingly, it is vital that our personnel are trained for these site-specific situations to have any chance at successful compliance. Achieving this coincides with our basic tenet of knowing and listening to our customers. By developing a sound understanding of our clients' operations, we better prepare ourselves for potential hazards and provide an all-around safer jobsite.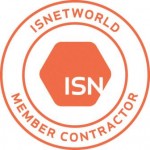 ISNETWORLD
AEI furthered its commitment to safety by becoming a member of the third party safety entity ISNetworld in 2009. ISNetworld ensures that AEI meets stringent safety and reporting criteria set by participating clients. The service dictates that OSHA logs, experience modification rate, insurance documents, and other pertinent information are kept current and can be instantly viewed by clients to ensure constant compliance. We believe that this affiliation and the demanding document and policy maintenance it requires is a testament to the priority AEI puts on safety.
1ST AID/CPR/AED
All AEI employees participate in an annual training course to update skills and certifications for 1st Aid, CPR, and the use of AED devices. These trainings help promote a greater depth of safety knowledge within the company, and keep personnel prepared for acting as first responders to potential jobsite incidents.
SAFETY TRAINING
AEI administers weekly discussions on sections of its safety manual relevant to current projects and client environments. Letting the work be our guide, we highlight real and potential safety issues within the context of projects we are actually inhabiting at the moment in time. This anecdotal approach keeps topics fresh, meaningful, and more likely to be absorbed.
In addition to these weekly reviews, AEI conducts an annual review and revision of its safety manual to ensure all standards meet and exceed OSHA and client requirements.
"I just wanted to send a quick email to you guys to let you know how much I appreciate THE AEI team here at Biogen. Since I started a year ago, the AEI team has been wonderful Safety Advocates and great to work with. The AEI team regularly attends meetings, assures projects are completed but most of all assures everyone's safety (employees, sub-contractors, Biogen employees).
In addition to thanking your team, I wanted to point out one of your employees; Chris Gould-Kelly is really knowledgeable and great to work with. Chris continues to drive safety with completion of JHA's, morning meetings and by asking questions to the EHS department prior to conducting tasks to assure AEI is compliant with Biogen Safety Procedures and all other safety requirements. Chris exemplifies excellence in all he does and continues to be an advocate for safety with everyone he works with."
Thank You,
-Michael S. Baut, CSP Manager
EHS, Biogen